/
/

Martin L. Kolinski, D.D.S.
Martin L. Kolinski, D.D.S.
Dr. Martin L. Kolinski D.D.S. is a graduate of the University of Illinois College of Dentistry, where he also received his specialty certificate in Periodontics.
He is a member of the American Dental Association, American Academy of Periodontology, Academy of Osseointegration, and is a Diplomate of the American Board of Oral Implantology/Implant Dentistry. He has spoken extensively to numerous groups, including the Academy of General Dentistry, the Chicago Dental Society and the American Academy of Periodontology.
Dr. Kolinski is currently an adjunct professor in the department of Periodontics where he teaches post-graduate students. Dr. Kolinski is past president of University of Illinois College of Dentistry alumni association.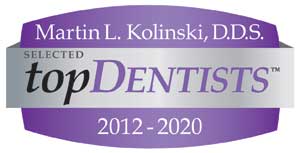 Dr. Kolinski began practicing periodontics in 1980 in Oakbrook, Illinois. In 1982, Dr. Kolinski started his private practice in St. Charles, Illinois with an emphasis in Dental Implantology. A couple of years later, Dr. Kolinski opened a second office in DeKalb, Illinois which he sold in 1997.
In 2002, Dr. Kolinski expanded and remodeled his St. Charles office site equipping it with the latest technology to support his dental implant and periodontal practice.
In 2007, Dr. Kolinski added an associate, Tricia R. Crosby, D.D.S., M.S. to his practice, where she became a partner in 2010. Dr. Kolinski and Dr. Crosby have placed over 20,000 implants.
In 2012, Dr. Kolinski and Dr. Crosby redid and updated their office into a "state of the art facility" in both technology and decor.
---
Biography
Dr. Martin L. Kolinski lives in Wheaton, Illinois. Dr. Kolinski is married to his lovely wife, Cathie. He has three children, Tom, John and Nell, and two step children, Ashley and Michael. As the oldest of four children, Dr. Kolinski was raised in the Western Suburbs of Chicago, and attended Montini High School.
Professional Education:
Doctor of Dental Surgery – 1978
Specialty Certificate in Periodontics – 1980
Professional Associations:
Community Service and Favorite Pastimes:
Dr. Kolinski lectures to community and professional organizations both locally and nationally. Teaches at local, state and national society meetings. He has served on the Board of Directors of Lazarus House for the homeless.
Dr. Kolinski takes pleasure in spending time and traveling with his young adult children. He is an avid golfer and also enjoys playing tennis.
---
Reviews
---
★★★★★ No more sinus infections! February 1st, 2013 "In recent months, I have had dental implants performed by Dr. Kolinski. The procedures went quite well and even had an extra benefit. For the past 4 years, I was plagued by frequent sinus infections. These infections always began on my left side, the same general area where the implants now reside. Turns out one of the replaced teeth (which was a root canal/crowned tooth that had failed) was causing inflammation in that sinus area. Since the installation of the new implant, I can report that I am healthier than ever and no longer get any sinus infections!! My life is so much better due to Dr. Kolinski's implant procedures." - Alan Wera
---
★★★★★ Double implant surgery was painless. Can't believe it!
November 15th, 2012 "I still cannot believe how painless and efficient my double implant surgery was! My friends cannot believe that all of the steps of the surgery were done in one sitting. Thank you Dr. K!!" – Jeanne Koepke, patient
---
★★★★☆ Thanks, Dr. Kolinski and the staff
June 2nd, 2011 "I am thrilled with the results of my dental implants! Dr. Kolinski and staff did a wonderful joy with no complications. My smile is gorgeous. I love how I look in pictures!!!! always smiling!!! I would confidently recommend this office to anyone who needed to replace their front teeth like I did. It can and WILL improve your life. It certainly has for me." – Nancy Bogardus
---