/
/

William R. Trahan, D.M.D., M.S.D.
William R. Trahan, D.M.D., M.S.D.
Dr. Trahan developed a love for the specialty of periodontics at the age of fifteen when he began shadowing and assisting a periodontist in his home town of Burlington, VT. After graduating from the University of Mary Washington in Fredericksburg, Virginia, he attended Tufts University School of Dental Medicine in Boston and four years later graduated summa cum laude. He then furthered his training at Virginia Commonwealth University in Richmond, Virginia where he received his Certificate in Periodontics and Conscious Sedation, and a Master of Science in Dentistry degree.
Dr. Trahan has obtained the highest recognition for a specialist in the field of Periodontology by becoming a Diplomate of the American Board of Periodontology and Dental Implant Surgery, a distinction held by less than one-third of all practicing Periodontists.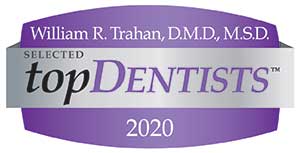 Dr. Trahan enjoys all aspects of periodontal therapy, which also includes the placement of dental implants and soft tissue "gum" grafting to help create beautiful smiles. He has a gentle caring manner and prides himself on creating an enjoyable experience for all of his patients. He is committed to staying current with the latest technologies and advances in dentistry through continuing education. Dr. Trahan is certified in Basic Life Support as well Advanced Cardiac Life Support and is a member of the American Academy of Periodontology, Academy of Osseointegration, and the American Dental Association.
When away from the office, Dr. Trahan enjoys spending time with his wife Ann and being outside as much as possible. He loves hiking, biking, tennis, and competitive marksmanship. He also enjoys volunteering, and has had the privilege of practicing humanitarian dentistry in overseas and domestic venues.
---
Professional Education:
2015 Virginia Commonwealth University Department of Periodontics Certificate in Periodontology and Master of Science in Dentistry

2012 Tufts University School of Dental Medicine Doctor of Medicine in Dentistry
Professional Associations:
Honors, Scholarships, and Awards:
2014-2015 Chief Resident - VCU School of Dentistry, Department of Periodontics
2012-2015 Omicron Kappa Upsilon National Dental Honor Society
2012 The American Academy of Periodontology 2012 Student Award
2012 The Robert E. O'Neil, D51, Prize in Oral Surgery - Tufts University School of Dental Medicine
2012 The Jack Frommer Award for Excellence in the Morphological Sciences - Tufts University School of Dental Medicine
2008-2012 Tufts Merit Scholarship
2010-2011 NBDE Part 1 Deans List - Score 93 NBDE Part 2 Deans List - Score 94
2004-2008 Distinguished Student on Dean's List at the University of Mary Washington
2016 Certificate in Periodontology and Dental Implant Surgery
Publications:
Yoganarasimha S., Trahan W.R., Madurantakam P.A., et al. Peracetic Acid: A Practical Agent for Sterilizing Heat-Labile Polymeric Tissue-Engineering Scaffolds. Tissue Eng Part C Methods. 2013 Dec 17 [Epub ahead of print]

Solomon, L.W., Trahan, W.R., Snow, J.E. Localized Juvenile Spongiotic Gingival Hyperplasia: A Report of 3 Cases. Pediatr Dent 2013;35:360-3
Professional Experience:
2011 The Health Center, Plainfield VT, 5 Week Dental Externship Provide comprehensive dental care in an underserved area

2011 Virginia Commonwealth University School of Dentistry, Periodontal Externship

2002-2008 Dr. Paul A. Levi Jr. and Brian D. Shuman, Dental Assistant
Teaching Experience and Clubs:
2012-2015 Virginia Commonwealth University Teach dental students in pre and post doctoral clinics Lead discussion groups

2008-2012 Class representative to the Department of Periodontology, Tufts University School of Dental Medicine Facilitate communication between the class and course instructors Email lectures and pertinent articles, and put together reviews for the class

2010-2012 Periodontal Study Club

2010-2012 OMFS Journal Club

Fall 2010 Tutor in Gross Anatomy and Embryology, Tufts School of Dental Medicine

2009-2011 Teaching assistant, "Non-Surgical Periodontal Therapy" Workshop at the American Academy of Periodontology Meeting ('09) and the Yankee Dental Congress ('10,'11), Boston, Massachusetts Instruct participants to perform calculus removal and instrument sharpening Instruct participants to use piezoelectric and magnetostrictive ultrasonic instruments
Community Service:
2012-2014 Mission of Mercy Project, Wise, VA.

2009 Hispanic Dental Association: Ecuador Missionary Experience

2007-2008 Moss Free Dental Clinic Volunteer, Fredricksburg, VA.
---
Reviews
★★★★★ Great Experience!
October 9th, 2015
"Dr. Trahan did a fantastic job taking care of Elizabeth's gum issue. She immediately felt comfortable because of his friendly demeanor. Everything was explained clearly and after the procedure Dr. Trahan personally called to check on Elizabeth. Great experience and we highly recommend Dr. Trahan!" - Shayna Duncan

---
★★★★★ Procedure Was Painless
October 21st, 2015
"I would like to compliment Dr. Trahan on the excellent care taken when I had my gum surgery. The procedure was painless and required no more than antibiotics. Dr. Trahan has a very calming presence and personality. I thank him and wish him a long and happy career. I will pass along his name and good work." - Charlotte Cartina