04/05/15
William "The Refrigerator" Perry has more to smile about, thanks to Dr. Martin Kolinski.
St. Charles, Ill. — Former Chicago Bears defensive lineman William "The Refrigerator" Perry began his football career with a famous gap-tooth grin. Then he spent two decades avoiding the dental chair, eventually losing half his teeth. Now, after months of intense work that involved pulling his remaining teeth and implanting screws into his jawbone, he got a winning smile this week.
"It's wonderful," he said. "They look great. It's unbelievable."
The four-month restoration process included inserting implants and opening spaces in his gums. Dr. Kolinski donated the $30,000 procedure to Mr. Perry.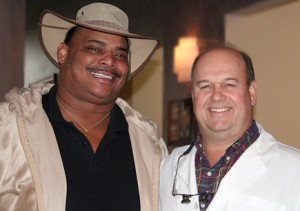 William "The Fridge" Perry and Dr. Martin Kolinski share a smile
BEFORE and AFTER: Mr. Perry had avoided the dentist for 20 years, nearly losing half his teeth (above). Mr. Perry smiles with his new set of teeth (below).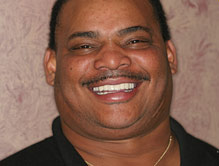 The 15 titanium implants that Dr. Kolinski placed can be seen in this x-ray (below).